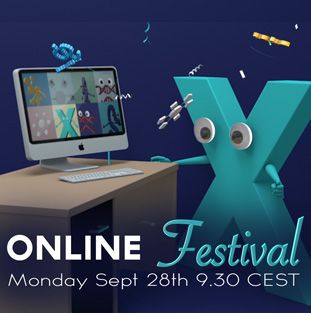 Recap online X-omics festival 2020
The second edition of the X-omics festival took place online, on September 28th 2020. This event contained a keynote lecture, lectures from investigators and technology pitches. We thank all the speakers, the sponsors and the participants and look forward to future events.
You can find the recordings of this event on our YouTube channel. More details about the speakers and a summary of their presentations with highlights/key take home messages can be found below.
Aftermovie 2020
X-omics festival summary
Biosketches of our festival 2020 speakers
Tim Hubbard

Back in 1997, Tim Hubbard joined the Wellcome Trust Sanger Institute to become Head of Human Genome Analysis, where he was one of the organizers of the sequencing of the human genome. Two years later, he co-founded the Ensembl project to analyze, organize and provide access to the human genome.

From 2007 he led the GENCODE project to annotate the structure of all human genes. Tim Hubbard was the Sanger Institute PI of the Genome Reference Consortium and he became Head of the Informatics division

After the announcement of the 100,000 genomes project 2012, he was seconded part-time as a specialist advisor for genomics to NHS England leading up to the creation of Genomics England.

In October 2013 Tim Hubbard was appointed Professor of Bioinformatics and Head of the Department of Medical & Molecular Genetics at King's College London and Director of Bioinformatics for King's Health Partners with a part-time secondment as Head of Genome Analysis at Genomics England.

In 2018 he was also appointed as Associate Director (King's) for the Health Data Research London Site.

Wei Wu

Wei Wu is an assistant professor in the Department of Pharmaceutical Sciences in Utrecht University. With a niche in extracellular (affinity) proteomics, her research focuses on dissecting intercellular crosstalk, that is mediated through secretion and/or signalling at the plasma membrane interface.

Tony Zucca

Tony's career has spanned from academic research into industry research instrumentation. His career of scientific experience has been with technologies such as Gene Expression, Gene Sequencing, Microscopy, Image Analysis and Digital Pathology.

Bert Wouters

Bert Wouters has conducted his doctoral research at the Free University of Brussels (under the supervision of Prof. Eeltink and Prof. Desmet). During his research, he developed advanced strategies for one-, two-, and three-dimensional LC and novel approaches to prototype microfluidic devices for high-pressure liquid chromatography. After his PhD, he started working as a postdoctoral researcher at the University of Amsterdam under the supervision of Prof. Schoenmakers, focussing on the development of a microfluidic immobilized-enzyme reactor implemented in-line in a high-throughput LC×LC workflow. Currently, he is working as a postdoctoral researcher at Leiden University in the group of Prof. Thomas Hankemeier on the topics of microfluidic sample-preparation and sample-transfer, high-throughput automated techniques, and flow-NMR spectroscopy.

Gary Kruppa

Dr. Gary Kruppa is the vice president of proteomics at Bruker Daltonics Inc. He earned his Ph.D. in chemical physics at the California institute of Technology in 1988, and subsequently has worked in the field of mass spectrometry instrumentation and applications for over 30 years. During that time he has led successful efforts to commercialize applications of mass spectrometry in metabolomics, microbiology, and proteomics, and currently leads a global team of applications scientists and developers working on new applications of mass spectrometry in the field of proteomics.

Hans Wessels

Dr. Hans Wessels specializes in translational clinical proteomics driving further development of emerging technologies contributing to healthcare. His professional career started as proteomics specialist at the Radboud University Medical Center in 2003 working on inborn errors of metabolism and biochemistry of novel microorganisms. In this time, he was key to establish the core proteomics facility of the Radboudumc. From 2010-2015, he performed his PhD research at the Nijmegen Center for Mitochondrial Disorders where he conceived and applied novel methods to study mitochondrial complexomes. Since then, he is building his own line of research on the importance of proteoforms in disease pathology at the Translational Metabolic Laboratory. Innovative projects include the development and implementation of Top-Down proteomics and Glycoproteomics using trapped ion mobility tandem mass spectrometry for translational research and patient care.

Ruben Pool

Ruben Pool studied Biomedical Physics at the University of Amsterdam and continued with a PhD in molecular biophysics at the AMOLF institute. After completion he worked as a data scientist in a healthcare startup and continued his career as a cloud solution architect at Microsoft. In this role for several years now, Ruben has been working with universities, research institutes and hospitals, helping them with technical challenges by designing solutions based on cloud technology.

Jenny van Dongen

Jenny van Dongen is an assistant professor at the department of Biological Psychology at the VU Amsterdam. She works with data from the Netherlands Twin Register to study the causes of individual differences in DNA methylation and the connections between epigenetic mechanisms and behavior and health. Dr. van Dongen has a Bachelor's degree in Biology and Master's degree in Neuroscience, and obtained her PhD at the VU Amsterdam in 2015. Within the BBMRI-NL BIOS consortium (http://www.bbmri.nl/acquisition-use-analyze/bios/), she has worked together with multiple Dutch biobanks to study the interplay between genome, epigenome, transcriptome, and complex traits, and led an epigenome-wide association study meta-analysis of educational attainment (https://www.nature.com/articles/s41539-018-0020-2).

Roland Kanaar

Roland Kanaar (1961) is professor of Molecular Genetics and head of the Molecular Genetics department at the Erasmus University Medical Center. His research focuses on the molecular mechanisms and biological and physiological relevance of the DNA damage response. His work integrates interdisciplinary approaches from molecules to cancer patients. His research group uses fundamental insights into how the DNA damage response works and how it can be manipulated to enhance and design cancer treatments. In 2002 he was elected a member of the European Molecular Biology Organization (EMBO) and in 2013 he was elected to the Royal Netherlands Academy of Arts and Sciences (KNAW). In 2020 his research team won the "Ammodo Science Award for groundbreaking research" in the natural sciences.

Clara van Karnebeek

Professor Clara van Karnebeek is head of the metabolic diseases department in the Radboud University Medical Centre in Nijmegen and principal investigator at the Amsterdam University Medical Centres, The Netherlands and the University of British Columbia in Vancouver Canada.

Clara's work as a pediatrician and biochemical geneticist focuses on early diagnosis and innovative treatment of neurometabolic diseases in a P4-medicine model. Her international team integrates genomic and metabolomics technologies to unravel the cause of degenerative brain conditions in children, discovering novel genetic conditions and treatment targets. She implements this knowledge in the management of her patients, via clinical trials with personalized outcomes. Translating new knowledge into expanded newborn screening, as well as useful information and action for the patient and family, using digital applications, are the ultimate goals of her multi-disciplinary team's effort.

She is the Director of United for Metabolic Diseases (www.umd.nl), a Dutch consortium uniting all 6 academic metabolic expertise centers and the patient organizations to optimize research and care.

She published over 170 peer-reviewed journal articles, multiple clinical guidelines and chapters in textbooks. Clara is regularly invited for keynote lectures at international conferences for professional societies in neurology, genetics and pediatrics. She is a dedicated teacher and mentor for clinical and research trainees at different stages. For her contributions to research and clinical care and commitment to translational science she received the Canadian Organization for Rare Diseases Scientist Award.

Ahmed Mahfouz

Ahmed Mahfouz is an assistant professor at the Human Genetics Department at the Leiden University Medical Center. His research combines machine learning and statistical models to analyze single cell data. He aims to use these approaches to study the effects of genetic variation on cellular diversity.