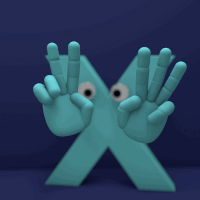 Recap X-omics festival 2023
The fifth edition of our X-omics festival "The future of multi-omics research is now!" has taken place on Monday April 17th 2023. Showcasing research at different biological levels, with a specific focus on multi-omics data integration or spatial omics. The event aims to bring together the multi-omics community.
The event included:
Two keynote lectures
Lectures from X-omics investigators on multi-omics 

data integration and spatial omics

Pitches about new omics technologies and applications
Scientific posters
Networking opportunities
Program morning
---
---
Multi-omics data integration:
Chairs: Kelly Stecker (Utrecht University) & Junda Huang (Radboudumc)
Poster pitches – new omics technologies and applications
---
Coffee break

(with poster sessions)
---
Multi-omics data integration:
Chairs: Anna Niehues (Radboudumc) & Elena Sánchez López (Leiden University Medical Center)
Anke-Hilse Maitland-van der Zee

(Amsterdam UMC):

"Precision medicine in Respiratory Disease: use of -omics in optimizing therapy for the individual patient."

Pitch

Joanna Kirkpatrick (Thermo Fisher Scientific):
"Enhanced data acquisition and data evaluation strategies for Orbitrap research." - pitch Thermo Fisher Scientific

Pitch

Presentation

Nadira Vadaq

(Radboudumc):

"High-throughput proteomic analysis reveals systemic dysregulation in virally suppressed people living with HIV."

- user pitch

Olink

Pitch

Presentation

Ronan Fleming

(Leiden University):

"XomicsToModel: Multi-omics data integration and generation of thermodynamically consistent metabolic models."

Pitch

Presentation

---

Lunch

(with poster sessions)

---

Program afternoon

---

Spatial omics:

Chairs: Alida Kindt-Dunjko (Leiden University) & Carlo Vermeulen (UMC Utrecht)

Keynote speaker:

Jasmine Plummer

(St. Jude, USA):

"Spatial Omics: Understanding tissue interactions in development and disease."

Pitch

Poster pitches - new omics technologies and applications

---

Coffee break (with poster sessions)

---

Spatial omics:

Chairs: Guinevere Lageveen-Kammeijer (University of Groningen) & Gad Armony (Radboudumc)

Eva Cuypers

(Maastricht University):

"Mass Spectrometry Imaging and spatial omics: how detailed can we go?"

Pitch

Jessica Roelands

(Leiden University Medical Center):

"Digital spatial profiling reveals molecular and immunological hallmarks of colorectal cancer tumourigenesis."

- user pitch

NanoString

Pitch

Presentation

Kasper Krestensen

(Maastricht University):

"MALDI-IHC-Guided In-Depth Spatial Proteomics: Targeted and Untargeted MSI Combined."

- user pitch

Bruker

Pitch

Presentation

Bram Heijs

(Leiden University Medical Center):

"Mass spectrometry imaging as a tool for spatial DYnamic MetabolOmics (DYMO)."

Pitch

---

Alain van Gool (Radboudumc):
Recap and closure

---

---
Biosketches of our speakers
Alain van Gool

Alain van Gool is professor Personalized Healthcare and heads the Translational Metabolic Laboratory at the Radboud university medical center, with a strong passion in the application of biomarkers in translational medicine and personalized healthcare. After his study (biochemistry, 1991) and PhD (molecular biology, 1996) Alain worked at a mix of academia, pharmaceutical industries, applied research institutes, university medical centers in Europe, Asia and USA. He has been leading technology-based biomarker laboratories, cross-functional expert teams, therapeutic project teams and public-private consortia, many of which were focused on the discovery, development and implementation of translational biomarkers in a variety of therapeutic areas. His technical expertise resides most strongly in molecular profiling (various Omics approaches), analytical biomarker development and applications in translational scientific research.
Alain is a strong believer of open innovation networks and thrives to work with specialists to translate basic research to applied science. With that background, he currently also acts as Strategic Advisor to the Executive Board of Radboudumc, co-coordinates the Radboudumc Technology Centers, is Scientific Lead Technologies of DTL (the Dutch Techcenter for Life Sciences), is Chair Biomarker Platform of EATRIS (the European infrastructure for Translational Medicine), is co-initiator of Health-RI (the Netherlands Health Research Infrastructure for Personalized Medicine and Health), and project leader and PI of the Netherlands X-omics Initiative, thus contributing to the organisation and coordination of local, national and European technology infrastructures. Complementing his daily work, he enjoys contributing to scientific advisory boards of start-up enterpreneurs, multinational companies, translational organisations, funding agencies and conference organisers.

Mohsen Ghanbari

Dr. Mohsen Ghanbari is a medical doctor and molecular epidemiologist working as Associate Professor and Principal Investigator of "Molecular & Systems Epidemiology" at the Department of Epidemiology, Erasmus University Medical Center Rotterdam, the Netherlands. He has a multidisciplinary background due to training and experience working in the clinic, epidemiology and molecular biology. His research focuses on the identification of genetic determinants and novel biomarkers for complex diseases (e.g. Alzheimer's disease, fatty liver and cardio-metabolic diseases). To this end, he and his team integrate multi-omics data from epidemiological studies, conduct advanced analytical methods, and employ state-of-the-art molecular and cellular biology approaches. In particular, his recent studies have revealed the role of numerous non-coding RNAs in molecular pathways underlying cardiovascular and neurodegenerative diseases. He has received a number of fellowships, grants, and awards on the basis of his great work at the start of the career and important contribution to his field. The multidisciplinary aspects of his research have allowed him to make a bridge between Epidemiology and several biology departments at Erasmus MC and other academic institutions. He is involved in diverse (inter)national consortia, such as X-omics, BBMRI-NL, CHARGE, and COMETS, where he leads multi-center collaborative projects. In his current position as the PI of group, he is leading a research group of more than 15 Postdoc, PhD and Master students, teaching in multiple courses offered by the Netherlands Institute for Health Sciences (NIHES) for MSc/PhD students, and coordinating omics data in the population-based Rotterdam Study cohort (~18,000 participants) and the family-based Erasmus Rucphen Family study (~3,000 participants).

Anke-Hilse Maitland-van der Zee

Anke-Hilse Maitland-Van der Zee was trained as a pharmacist, clinical pharmacologist and epidemiologist. In 2016 she was appointed full-professor in the AmsterdamUMC (Precision Medicine in Respiratory Disease). In 2005 she started to work at Utrecht University, first as assistant Professor and in 2012 as associate Professor in Precision Medicine. From 2003- 2005 she worked as a post-doc at the Human Genetics Center of the University of Texas in Houston.  Her main research goal is to bring precision medicine into clinical practice. Moving away from using old-fashioned diagnostic labels, but instead using biomarkers to understand biological pathways and optimize therapy for the individual patient accordingly. She is among others Principal Investigator of the strategic public private partnership Precision Medicine for More Oxygen (P4O2), and president of the Federation Innovative Medicine Research Netherlands (FIGON). She published more than 310 peer reviewed articles.

Rik van der Kant

Rik van der Kant is an assistant professor with a dual position at the Vrije Universiteit Amsterdam Center for Neurogenomics and Cognitive Research (CNCR) and the Alzheimer Center of the Amsterdam University Medical Center. His lab studies the molecular mechanisms underlying Alzheimer's disease (AD), and other dementias in the elderly, using amongst other integrative multiomic approaches. Work in the van der Kant labs specifically centers around the role of lipid metabolism in dementia, and the use of human iPSC-derived neuronal models to discover how lipid metabolism contributes to early pathogenesis. Dr. van der Kant is currently co-leading a clinical phase 2a trial (CHolesterol COnversion for Late onset AD, CHOCOLAD) to evaluate the efficacy of low-dose Efavirenz as a brain-cholesterol lowering drug for the treatment of early Alzheimer's disease.

Nadira Vadaq

Nadira Vadaq is a medical doctor graduated from Gadjah Mada University, Indonesia. Currently, she is working as post-doctoral researcher in the 2000HIV study research group, Radboudumc. Her PhD research involved the application of various omics spectra, including genomics, proteomics, metabolomics, and gut microbiome, to examine the contributing factors to the variation of hemostasis and inflammation in the cohort of the Human Functional Genomics Project (HFGP; http://www.humanfunctionalgenomics.org). At present, her research efforts are focused on the analysis of high-throughput proteomic data using the Olink Explore 1536 panel, with the objective of gaining a more comprehensive understanding of the proteomic alterations associated with persistent inflammation and cardiovascular diseases in virally suppressed individuals living with HIV.

Ronan Fleming

Dr. Fleming leads the Systems Biochemistry Group, an interdisciplinary research group of mathematical, computational and experimental biologists. The fundamental interest is to develop scalable mathematical and numerical analysis techniques that increase the predictive fidelity of biomolecular network models, by incorporating physico-chemical constraints, motivated by optimality principles. Their applied interest is in the aetiopathogenesis and amelioration of Parkinson's disease and related inherited metabolic diseases. Model predictions are used for optimal experimental design and compared with quantitative experimental data, including that obtained from their microfluidic cell cultures of dopaminergic neurons, derived from normal and Parkinsonian human subjects using stem cell biology techniques.

Jasmine Plummer

Dr. Jasmine Plummer, PhD is the founding Director of the Center for Spatial Omics and an Associate Member in the Department of Developmental Neurobiology at St. Jude Children's Research Hospital. She received her PhD at the University of Toronto, Mount Sinai Hospital where Dr Plummer used genome wide screens to identifying novel genes that regulate the nervous system development. As an Autism Speaks fellow at Children's Hospital Los Angeles and University of Southern California, Dr. Plummer utilized system biology approaches to understanding the genetic risk of neuropsychiatric disorders, including autism, schizophrenia, attention-deficit/hyperactivity disorder, bipolar disorder and major depressive disorder. Dr. Plummer directed the Applied Genomics, Computation and Translational Core at Cedars Sinai which focused on generating genomic data for a variety of technologies from single cell and spatial assays to sequencing. Currently, Dr. Plummer's lab uses a multi-omics approach through genomic, epigenomic, transcriptomic and spatial data to functionally interrogate genetic risk of disease including cancer and neurodevelopmental disorders. From this current work, Dr. Plummer tries to understand how early genetic events trigger pathogenicity to find early biomarkers of disease.

Eva Cuypers

Dr. Cuypers obtained in 2008 her PhD degree in Biomedical Sciences at the School of Pharmaceutical Sciences-Toxicology at KU Leuven (Belgium). She did a Postdoc in Forensic Toxicology at KU Leuven (2009-2014, Belgium) and AMOLF (2013-2014, The Netherlands). In 2015 she was appointed as Assistant Professor Forensic Toxicology at KU Leuven. In 2019 she moved to M4i, University Maastricht as Senior Researcher and she was Guest Professor at KU Leuven (2019-2022). In 2021, she was appointed as Assistant Professor and became Group Leader of her research group focusing on Mass Spectrometry Imaging in Peri-Operative Diagnostics. Her research group is focusing on the development and translation of Mass Spectrometry Imaging based methods towards clinical applications. This includes new, fast and objective detection methods of disease markers in biological samples, but also intra- operative diagnostics to visualize and identify 'on the spot' the tissue or disease type, tumor border or cancer cells. All research projects have a highly and direct translatable purpose keeping the end- users, mostly clinicians, in mind. The main research focus is translating molecular insights into clinical solutions by developing methods and products that will have an added value in the strive towards personalized medicine.

Musa Mhlanga

Prof. Musa M. Mhlanga is the chair of Cell Biology and heads the Laboratory for Epigenomics & Single Cell Biophysics at the Radboud Institute for Molecular Lifesciences. He did his undergraduate studies in France & the US and obtained his PhD in New York at NYU School of Medicine and The Rockefeller University. There, he worked on the development of molecular beacons for in vitro diagnostics and for the imaging of RNA in living cells with Fred R. Kramer & Sanjay Tyagi. Next, he did a Post-Doctoral fellowship at the Institut Pasteur in Paris as a US National Science Foundation fellow. He worked on gene expression and nuclear organization with a focus on imaging of RNA and transcription. He started his own lab and moved to South Africa a little over 13 years ago where until recently he was at the University of Cape Town. Now at the Radboud University in Nijmegen, where he is also a member of the department of Human Genetics at Radboud University Medical Center, his laboratory continues to work on gene regulation and epigenomics with a focus on the role of genome architecture and noncoding RNA. His laboratory also works on spatial transcriptomics and single cell epigenomics in immunity and inflammation.

Kasper Krestensen

Kasper Krestensen is originally from Denmark and was trained as a biochemist at the University of Copenhagen. He later did his Master's in neuroscience, joined between Maastricht (NL) and Boston (US). During his master he was introduced to the world of mass spectrometry and Prof. Ron Heeren, who later offered a PhD position at M4i focusing on translational applications of mass spectrometry and mass spectrometry imaging in biology and biochemistry driven research projects. Currently, his projects are centered on spatial omics, using mass spectrometry imaging to guide localized lipidomics or proteomics analyses using LC-MS, with the focus on unravelling intratumour heterogeneity.

Bram Heijs

Bram Heijs obtained his PhD at the Leiden University Medical Center in Leiden, The Netherlands in 2018. During his PhD he worked under supervision of dr. Liam McDonnell and Prof. dr. Judith Bovée at the Mass Spectrometry Imaging group of the Center for Proteomics & Metabolomics of the LUMC, focusing on method development and applications for clinical mass spectrometry imaging. In 2017, he received the ImaBiotech Mass Spectrometry Imaging award for best innovative project using the mass spectrometry imaging technology. From March 2019, he joined the group of prof. dr. Klaus Dreisewerd in Münster, Germany, to work on the development and applications for the new timsTOFfleX MALDI-2 in collaboration with Bruker Daltonics. Currently, he is leading and expanding the mass spectrometry imaging group at the Leiden University Medical Center with a focus on mass spectrometry imaging-based multi-OMICs integration.